What's up in French Edinburgh?!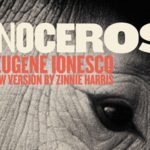 In a sleepy French provincial town, a rhinoceros rampages across the market square. Another crushes someone's cat.
A woman sounds the alarm: it is the townspeople themselves who are transforming into these raging beasts. As more and more of the citizens embrace their future as rhinos, just one man – the drunkard Bérenger – refuses to transform. But why does he feel so out of step with everyone else? And what will his refusal to conform cost him?
Eugène Ionesco's classic 1959 play is an uproarious absurdist farce – and a chilling examination of conformism, nationalism, fascism and fundamentalism that has been compared with Orwell's Animal Farm and Camus's The Plague. It considers the countless ways in which humans are content to adapt themselves to new and horrifying circumstances, and give in to poisonous ideologies.
Alongside its piercing political insights, it is comic, thrillingly theatrical and deeply human, focusing on the unlikely hero of the everyman Bérenger, and the possibility of resistance to what might seem inevitable.
A historic capital city from the far south-east of Europe collaborates with another historic capital in Europe's far north-west to create a show that speaks urgently to the whole continent, and beyond.
Edinburgh's illustrious Royal Lyceum Theatre comes together with DOT Theatre of Istanbul, one of Turkey's most radical independent theatre companies, for a new Scottish/Turkish version of Ionesco's Rhinoceros. This production is presented in a new version by leading Scottish playwright Zinnie Harris, directed by the celebrated founder of DOT Theatre, Murat Daltaban, and performed by a diverse company of actors from Scotland and Turkey.
£16–£32 (£10; Matinees £14–£28) / 0131 248 4848
http://www.frenchedinburgh.com/event/rhinoceros/
Subscribe
If you are interested in France and French language and live in Edinburgh, this is the site for you!
You get to know any French event happening in Edinburgh: French cinema, music, theatre, and any other activities 🙂
If you organise French events in Edinburgh regularly and would like to advertise them for free here, please contact Lise Morel!